A comprehensive approach to the management and care of the bariatric patient led by bariatric surgeon, George Woodman, MD, FACS.
George Woodman, MD, FACS
The founder of Midsouth Bariatrics, Dr. George Woodman, is a bariatric surgeon dedicated to helping bariatric patients reach their goal of a healthier life. Dr Woodman graduated from Emory University and completed his surgical training at the University of Tennessee. He has been in private practice for twenty-three years and has developed advanced skills in laparoscopic surgery.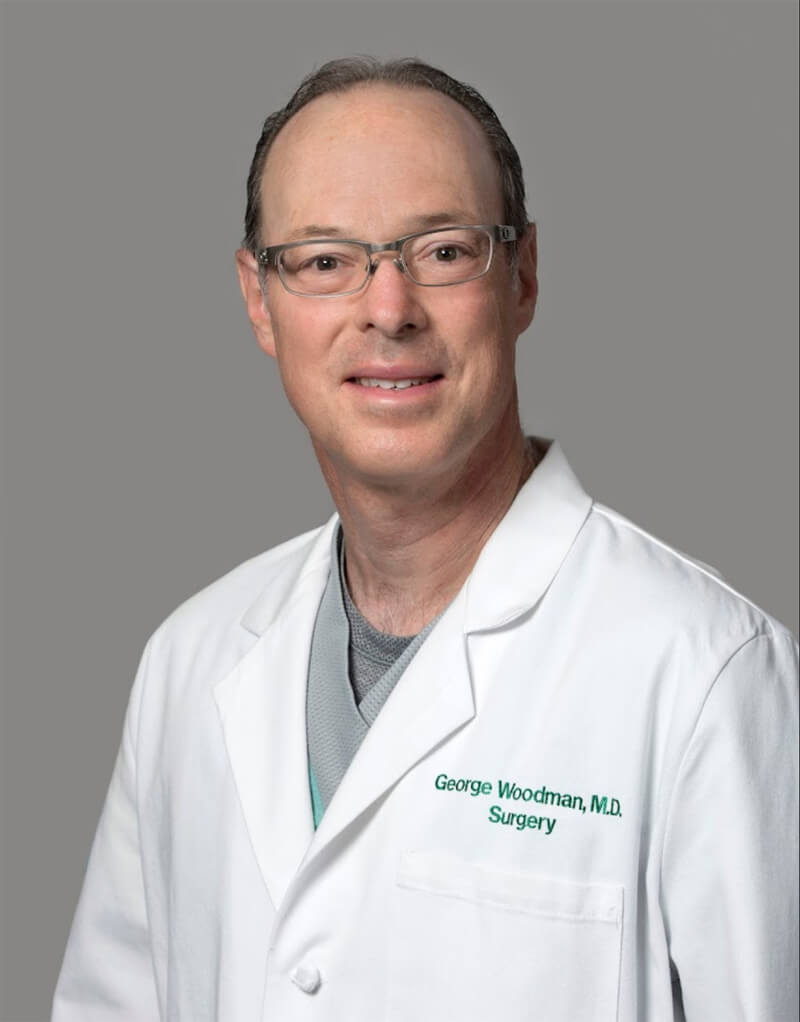 Dr Woodman is a fellow of the American College of Surgeons (ACS) and a full member of the American Society of Metabolic and Bariatric Surgery (ASMBS). To date (December 2021) Dr Woodman has performed over 11,000 bariatric surgical procedures. These cases include the sleeve gastrectomy, the lap-band, and the roux-en-Y gastric bypass procedures which are generally accepted to be the standards of care for surgical weight loss. Currently our practice focuses on the sleeve gastrectomy as our primary procedure of choice.
Dr. Woodman has also participated in multiple clinical trials involving devices designed as surgical or endoscopic aids to weight loss. This research has contributed to the recent approvals of gastric balloons for balloon-assisted weight loss and the application of surgical techniques to lower BMI candidates. To date (August 2015), Dr. Woodman has the most balloon experience of any surgeon in the US.
Dr. Woodman and Baptist Memorial Hospital Memphis and Methodist Hospital Germantown have developed and been recognized as CENTERS OF DISTINCTION by the American College of Surgeons (ACS) and the American Society of Metabolic and Bariatric Surgery (ASMBS). The designation of a Center of Distinction is earned by bariatric programs that demonstrate favorable outcomes, meet specific performance standards, and have significant caseloads.
General and Bariatric Surgery
Director of Midsouth Bariatrics
Member of the American Society for Metabolic and Bariatric Surgery
Director of the Baptist Hospital Memphis Weight Loss Center; A BARIATRIC CENTER OF EXCELLENCE
Director of the Methodist Hospital Germantown Weight Loss Center; A BARIATRIC CENTER OF EXCELLENCE
Mission Statement
Midsouth Bariatrics is dedicated to providing our patients with a comprehensive, multidisciplinary approach to long-term weight loss. We provide nutritional, behavioral, exercise, medical, surgical and group support to patients on an individualized basis. Through the use of the newest technology and information, we strive to be leaders in the education of the community and healthcare providers in the field of weight loss surgery.
Approach
Midsouth Bariatrics takes a multidisciplinary approach to the treatment of the obese patient. We utilize specific care pathways to expedite patient care. We encourage multiple avenues, surgical and nonsurgical, for our patients to help achieve their desired weight loss goals. Midsouth Bariatrics is affiliated with nutritionists, psychologists, and exercise physiologists who specialize in the care of bariatric patients. We are also affiliated with hospitals which meet all of the criteria to safely care for overweight individuals. All patients who ultimately qualify for bariatric surgery are required to attend an educational seminar and have at least two thorough office visits for education and preoperative instruction. We guide you through the qualification process and subsequent insurance approval process with a specialized team of experienced medical personnel.
Staff
Dory Sims, our dedicated bariatric nurse, and Kelley Hawkins, our office manager, specialize in the approval process as well as postoperative care. Deborah Cronan, our specialized surgical tech, has as much or more experience in the operating room as any tech in the US. They have many years of experience and are caring individuals who sincerely want to help you through the process. Our entire office focuses on the bariatric patient, and through compassionate care, guidance, personal experience, and determination we will help overweight individuals achieve their goals.
Locations
Midsouth Bariatrics currently has two office locations, 6029 Walnut Grove Road, Suite 100 – this is connected to the Baptist Memphis Hospital and in Jackson, TN at the Jackson Clinic North, 2863 US-45 Bypass. We currently utilize Memphis's Baptist and Methodist Healthcare systems for our inpatient care. We are pleased to routinely service patients in and around the Memphis area, including Missouri, Mississippi, Arkansas, Kentucky, and western Tennessee.
Midsouth Bariatrics
6029 Walnut Grove Road, Suite 100
Memphis, TN 38120
Phone: (901) 869-2000
Fax: (901) 869-2009
Jackson Clinic North
2863 US-45 Bypass
Jackson, TN 38305
(731) 935-7466